Making people want to smile is one of the most rewarding aspects of being a dentist. My goal is to make a difference in my patients' lives by being a trustworthy dentist who always takes the time to listen to my patients' concerns and answer their questions.
I want to be as gentle as I can in my treatment, because my patients' comfort is always at the forefront of my mind. The most rewarding thing I can hear is when patients tell me after an appointment, "I don't know why I was so worried about it; that was easy!"
Most meaningful, however, are the relationships I build with my patients. Getting to know them and sharing in their lives is what makes me excited about going to the office each day.
Education and Continuing Education
I earned my Bachelor of Science with honours from Acadia University. In searching for my profession, I wanted to do something that balanced art and science, but that also involved working with people. Dentistry was the perfect fit! I continued my education and received my Doctorate of Dental Surgery from the University of Western Ontario School of Dentistry in 2003.
I have always thought of education as a lifelong journey. My memberships with the Royal College of Dental Surgeons of Ontario, Ontario Dental Association, Oxford County Dental Association, and Academy of General Dentistry allow me to stay up to date with the most current methods and materials available. Most recently, I've completed training in restorative and endodontic care, as well as oral surgery, prosthodontics, periodontics, and TMJ/occlusion.
Family and Community
I am married with three children and two adorable Cavalier King Charles spaniels. When I'm not at work, I'm most likely spending time with my family, taking my kids to activities, or going for walks to the park with the kids and dogs. I'm also an avid reader, so feel free to share with me your favourite books!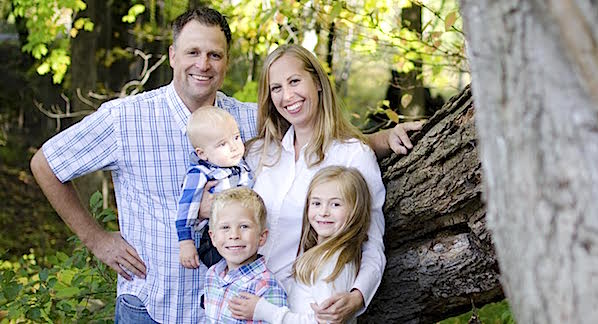 I am passionate about paying it forward: being a fair person and teaching my children respect and compassion for all people. It is important to me that I show my children through example that not all people are lucky enough to be born with the privileges they have, and they are therefore being given the opportunity to help people who are less fortunate.
I have been active for more than a decade: volunteering with and donating to an organization that promotes and contributes to environmental causes, affordable housing, refugee funds, food, security, mental health, fair trade, and other social justice initiatives.
I had the opportunity to live in Belgium for a year when I was 18, and while my French is not what it was in the past, I do love to speak it! I have had many francophone patients, and if you prefer to speak French with your dentist, viens me voir!
Dr. Albert's Fun Facts
Food I cannot live without: pizza
Favourite animated character: Winnie-the-Pooh
Best vacation ever: Mexico
Random fact: I can wiggle my ears.
One word that best describes you: Kind
Most proud of: my kids
Words I live by: Do unto others as you would have them do unto you.