I have been given both a unique opportunity as well as a professional obligation to make a genuine effort to change people's perception of the dental profession. I believe that if we make a sincere effort to inform, educate, provide options, and most importantly, express honest empathy in how we treat patients, we can significantly reduce dental anxiety.
My practice philosophy includes creating a positive, anxiety-free experience for all patients. I make a special effort to ensure my patients have the information they need to make positive decisions about their dental health and treatment options. If you find meaning and fulfillment in what you do, your profession becomes less of a job and more of an enjoyable journey in making a difference in the lives of everyone you meet!
Education and Continuing Education
I graduated from the University of Toronto in 1994 with a BA in human biology and religious studies. I completed my Doctorate of Dental Surgery at the University of Western Ontario's School of Dentistry in 2000, and earned the 3M award for clinical excellence in operative dentistry.
As a member of the Ontario Dental Association and the Waterloo-Wellington Dental Society, I continue to update my knowledge and education with courses in cosmetic dentistry. I enjoy all aspects of dentistry and find smile reconstruction and cosmetic enhancement work particularly rewarding.
Family and Community
My wife Sandra and I have a daughter Maddie, a son Noah, and twins Audrey and Ella. I'm passionate about music and sports; I love playing bass and rhythm guitar, and whenever I get a chance, I play golf, go fishing, and play basketball.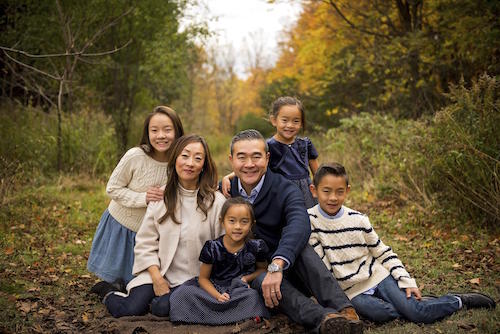 Dr. Park's Fun Facts
Food I cannot live without: coffee and hot sauce
Favourite animated character: Animal from the Muppets
Best vacation ever: My honeymoon
Random fact: When I was five, I truly believed I was Superman. One day I thought I could fly so I climbed up on a dresser drawer (which thankfully was the highest point in our basement apartment), put my arms out like Superman and dove into the air. To my surprise I did not fly, and my aspiration to be Superman ended with a visit to the ER and six stitches above my left eye.
One word that best describes you: grateful
Most proud of: My kids and my wife for tolerating me for 16 years!
Words I live by: Don't take things so seriously; take the time to enjoy the process, and feel grateful and blessed for every moment you share with your family and friends.