Our Admin Team


Marcia
"Life isn't about waiting for the storm to pass. It's about learning to dance in the rain."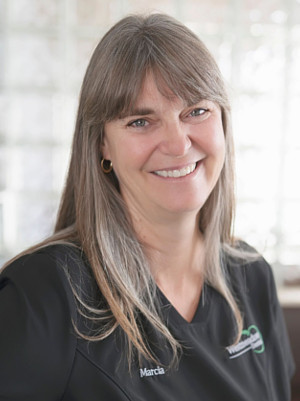 My name is Marcia and I am the Office Manager at Westmeadow Dental. I have the privilege of managing this amazing team. We are not a team because we work together but because we respect, trust and care for one another. There is nothing more rewarding than that!
When I escape the busyness at work, I am welcomed at home by my three wonderful grandchildren! Life is borderline chaotic there but we still manage to create some amazing memories. Our favorite memories are made at the trailer where we spend the majority of our time on the lake swimming, tubing, and doing gymnastics on the lily pad! To wind down our sun-filled days, we gather around the campfire for spider dogs and s'mores!
---
Darlene
"Everything happens for a reason."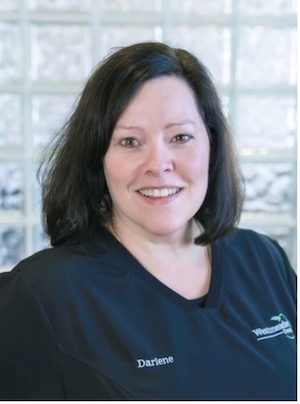 Hello there. My name is Darlene (most people call me Dar) and I am the Hygiene Coordinator here at Westmeadow Dental. Over the years, I have enjoyed getting to know the clients, establishing relationships with them, and seeing them and their families grow.
When I'm not at work, I love spending time up at the cottage. There's nothing better than a campfire on a crisp evening under a sky full of stars! Fall and winter are my favourite times of year. This is when you will find my husband and me tearing up the trails with our snowmobiles. Thankfully, our husky Echo shares our love of the snow!
---
Milly
"Remember that happiness is a way of travel, not a destination!"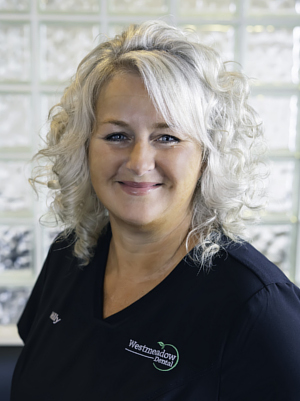 My name is Milly and I am the Treatment Coordinator at Westmeadow Dental. My role not only allows me to consult with clients about their treatment needs but also gives me the opportunity to get to know them better. It is my desire that each encounter with clients is informative but more importantly, sends them on their way happier then when they arrived!
In my free time, I embrace the seasons!! During the spring and summer, I love to kayak, hike, or cycle and in the fall yard work clears my mind. I recharge my batteries in the winter months by skiing and snowshoeing on the trails. The only thing that makes my outdoor experiences more enjoyable is when I get to enjoy them with my family!
---
Sandi
"That's a bad idea. What time should I join you?"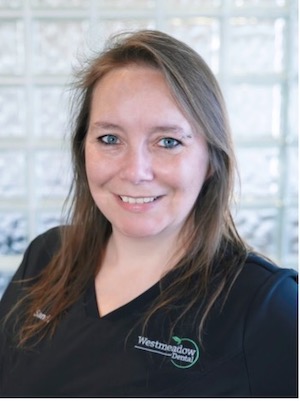 I'm Sandi and I am the Restorative Coordinator here. At Westmeadow Dental, each workday is filled with greatness! Our clients are awesome, the days are filled with laughter, and I get to work with some amazing people, which makes me feel as though I'm surrounded by family!! Oh, and there's coffee, which allows me to enjoy Westmeadow Dental even more!
Outside of work, I love to run and crochet. A couple of years ago, I signed up for a 12-hour timed race having never run longer than five hours. This was my first ultra-marathon where I didn't have to worry about going a set distance and finishing on time. Not only did I finish my first ultra-marathon, but I finished second female overall!! Yes, I cried when they announced me as second place…and I didn't die! Did I mention that when I got home, I signed up for a 24-hour run?

Our Dental Assistants
Becky
"Be happy. Be kind. Be positive…and don't forget to laugh!!"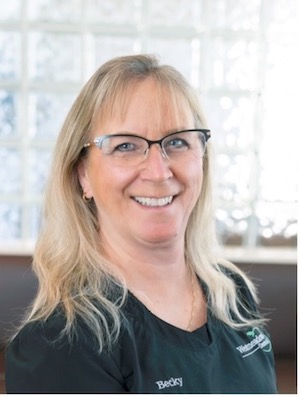 Hello there. My name is Becky and I am a Certified Dental Assistant here at Westmeadow Dental. I am so proud to be part of Westmeadow Dental's team. Not a day goes by where you won't find someone stepping in when help is needed or going to great lengths to have one another's back, all while maintaining a positive attitude!
Outside of my work week, you will find me either relaxing or entertaining around the pool or fire pit. I also enjoy long walks or a run on the trails.
---
Callie
"I was made for the day and the day was made for me."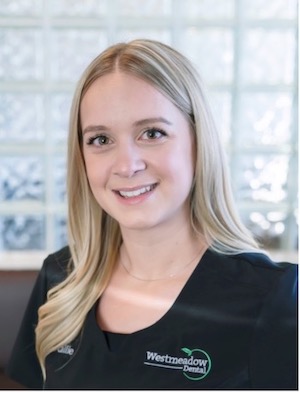 I'm Callie and I am a Certified Dental Assistant here. Before joining Westmeadow Dental's team, I was in a different career altogether. I wanted to pursue something that kept me busy, offered a variety of tasks along with the opportunity to meet new people, all in a positive work environment. It wasn't long before I discovered that Westmeadow Dental offered that, and so much more! I consider myself fortunate to have what people spend a lifetime looking for! I love my job!!
In my free time, I enjoy going for walks, especially in the winter, and spending time with my family. We love to get together for games night, which can get pretty loud and crazy! I also enjoy going to Blue Jays games with my husband, 'Girls day out' with my mom and sisters, watching "The Office" with my brother and coffee dates with my dad, which are still very special at my age!

Our Dental Hygienists


Cheryl
"Treat others the way you want to be treated."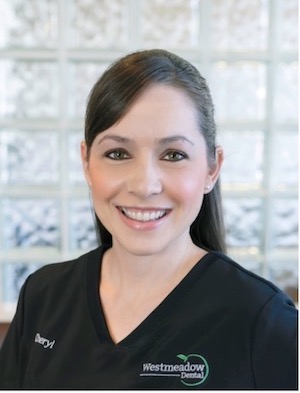 My name is Cheryl and I am a Registered Dental Hygienist at Westmeaodw Dental. What I really appreciate about Westmeadow Dental is the team. Everyone is very experienced, educated, and professional. What I find very rewarding about my role is witnessing clients smile after seeing improvements in their oral health. I also enjoy keeping them as comfortable as possible during their appointment.
Outside of work, I enjoy spending my time with my family, skating on the family pond, playing at the park with the girls, and getting lots of fresh air. Being a mom of two small children, there really isn't a lot of free time but when I experience the rare occasion, I love to read and curl.
---
Crystal
"When you can't find the sunshine, be the sunshine!"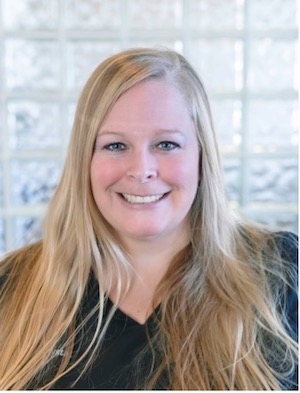 Hi! I'm Crystal and I am a Registered Dental Hygienist here at Westmeadow Dental. I consider it a privilege to work with such a diverse group of people. I love that we can collaborate together to provide the best quality of care for our clients. We share our different points of view and when we come together collectively it make us a stronger team!
When at home, my daughter whisks me away to a magical world of make-believe and pretend! Our imaginary play brings us on adventures with barnyard toys and Barbies, or possibly a classroom setting where I am the student and she is the teacher! Our time together often involves forts and crafts and of course making messes!
---
Deanna
"Seize the day."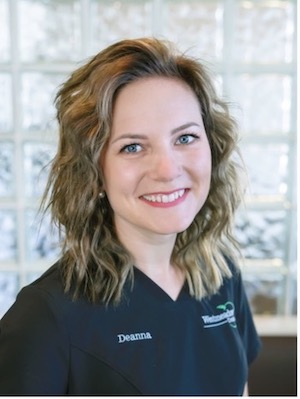 Hello there. I am Deanna and I'm a Registered Dental Hygienist here at Westmeadow Dental. Serving my community in a dental healthcare environment has provided much growth and learning both professionally and personally. The clients I meet are what make my day, and of course helping them maintain their beautiful smiles.
Outside of my work week, I try to combine my love of nature with moments for movement by hiking the trails or practicing yoga. I balance that with finding stillness through reading in the shade of the trees. Being part of the community is also very dear to me so I volunteer for various activities like mentoring local youth or participating in food distribution.
---
Greta
"Do what you love and you'll never have to work a day in your life."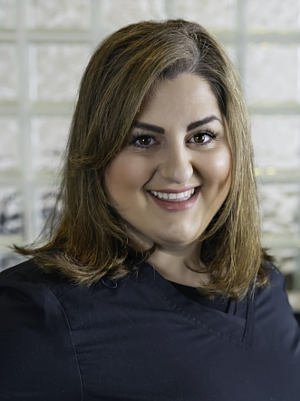 Hi. My name is Greta and I am a Registered Dental Hygienist at Westmeadow Dental. I feel very fortunate to work with such an amazing group of professionals who share the same vision and value for patient care. I am so blessed to have found such a fulfilling career and I appreciate the opportunity to share my compassion and knowledge with my patients to help them achieve their individual oral health goals.
When I arrive home, my life gets pretty hectic. My daughter, who is high energy, makes it challenging for us to keep up with her. We try to burn off some of that energy with trips to the park, swimming and fun in the sun. After she is settled for the night, Zumba and the fire pit compete for my attention. The fire pit usually wins so there I unwind, accompanied by my book, a glass of wine and my fur baby. Don't tell anyone but he is my favourite because he's the only one that doesn't talk back!
---
Leslie Dawn
"Never, never, never give up."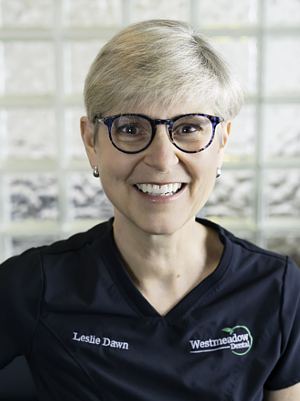 Hello there. I'm Leslie Dawn and I am a Registered Dental Hygienist at Westmeadow Dental. After more than 30 years in my profession, I am proud to say I am still passionate about my career and sincerely care for the clients I see. I genuinely value the relationships I have developed with both clients and team members and will treasure them forever!
My love for people keeps me stimulated all day long so when I'm not at work, I make every effort to get some time alone. I find my solitude in the quiet of nature by way of canoeing, running, and cycling at the cottage, hiking the trails in Algonquin, or simply through quilting or reading in the quiet of my home.
---
Linda
"Everything happens for a reason."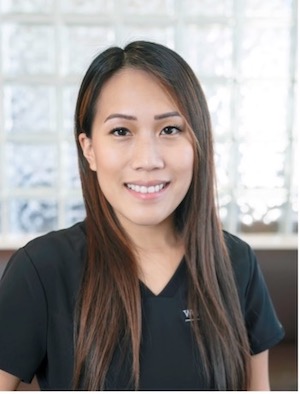 Hello there. My name is Linda and I am a Registered Dental Hygienist here at Westmeadow Dental. What I love most about my profession is the opportunity I have to interact with and educate my clients on the importance of oral health. It is essential to me that each client feels comfortable and relaxed while receiving treatment.
Because family is so important to me, I spend all my time outside of work with them. We love to go to movies, do DIY crafts, play at the park, ride our bikes, and rollerblade. Extra special family time happens on weekends when we get to do day trips with cousins, aunts, and uncles!
---
Melissa
"Everything leads to something better so never give up."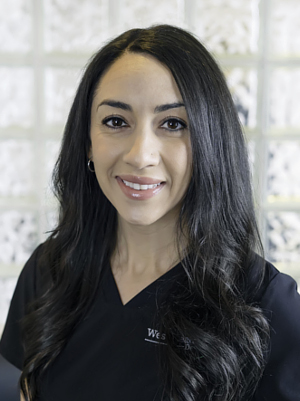 Hello there. My name is Melissa and I am a Registered Dental Hygienist here at Westmeadow Dental. Aside from my passion for cleaning teeth, my favourite part about working at Westmeadow Dental is the conversations I have with my clients throughout the day. I love getting to know each one on a personal level, developing a professional relationship with them.
Outside of work, I am busy making memories with my family and friends. My favourite memories come from spending weekends on the water, skiing and tubing all day, followed by bonfires on the beach with singing and dancing as we watch the sun go down!